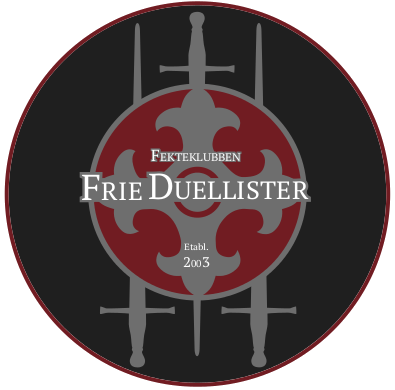 Frie Duellister har som mål
...å formidle og erverve seg kunnskap om HEMA (Historical European Martial Arts) eller historisk fekting. I prinsippet omfatter HEMA all dokumentert kampsport i Europa fra middelalderen, renessansen og opp til moderne tid.
Vil du lese litt mer om HEMA? Her er en nyttig side https://www.hemaalliance.com/new-to-hema/
I Frie Duellister er det lagt vekt på at medlemmer skal få så allsidige kunnskaper som mulig. Vi fokuserer oss primært på HEMA's bruk av sverd, og i duell-sammeheng (dvs. 1 mot 1) uten at dette ekskluderer andre kampsystemer f.eks. bryting. Overordnet mål er å høyne realismen i teknikkene , uten at det går utover sikkerheten til utøverne.
HEMA er en kampsport, og ikke...
Hærkamp, laiv, levende historie, cosplay, eksperimentell arkeologi, scenefekting (stage combat) eller lignende. Det er en reel kampsport basert på dokumenterte historiske kilder.
Frie Duellister utøver HEMA på en sikker, forsvarlig måte
Nobody should think that I have assembled this work to teach another how he can injure his neighbour, whenever he fancies to.

-Johannes Georgius Bruchius 'Thorough description Of the Noble and Knightly Fencing or Weapon-Art' (1671)
Instruktører og styre har satt trygge rammer for hvordan vi utøver HEMA, som alle våre medlemmer plikter å følge. Vi trener med godkjent og utprøvd sikkerhetsutystyr og treningsvåpen. Ingen får sparre før de er klare og godkjent av en instruktør. Likevel er HEMA en kampsport med skadepotensiale. Skader ved uhell kan forekomme. Dette forsøkes minimeres gjennom kontrollerte treningsforhold og sikkerhetsutstyr. Misbruk eller uforsvarlig bruk av kunnskaper lært hos oss vil kunne medføre til utestengning fra klubben.
En for alle, alle for en
Frie Duellister har et genuint ønske om å gjenopplive en nær utdødd europeisk kamp- og fektetradisjon, og å spre kunnskap og entusiasme for denne kampsporten. Vi ønsker også mangfold blant våre medlemmer. Alle er velkomne til vårt klubb uansett kjønn, nasjonalitet, etnisitet eller tro - så lenge de har et ærlig ønske om lære, trene og utøve HEMA på en forsvarlig måte.
Oppvisninger og demoer
Frie Duellister jobber for at HEMA skal bli mer alment kjent og etablert som en kampsport i Norge. Vi er derfor ofte å finne på middelalderfestivaler- og markeder rundt om i landet, der vi presenterer treningsvåpnen, har oppvisninger og en stand. Men vi er ikke bare begrenset til dette. Ta gjerne kontakt hvis du vil ha oss på ditt arrangement.
FKFD er gjennom Norsk forening for kulturhistorisk sverdfekting (HEMA Norge) medlem av Folkekulturforbundet