I consider it almost unnecessary to say much to recommend this Art to anybody, for there is none amongst the high or low statesmen, who does not consider it as the most vital art that one can possess in the world. Because it is often by this Art alone that one can save and keep his life, at times when it is in the utmost danger.

- Johannes Georgius Bruchius 'Thorough description Of the Noble and Knightly Fencing or Weapon-Art' (1671)
Fektekunsten som selvforsvar
Historisk var fektemestre opptatt av å lære sine studenter å forsvare seg fra overfall og angrep, og om nødvendig, i duell og krig. I dag går ikke folk rundt med sverd, og dueller eksisterer ikke, så denne type selvforsvar har gått i glemmeboken da fektekunsten ble en ren sport. Men i FKFD forsøker vi å gjenskape de historiske teknikkene, og å fekte på en måte der selvforsvaret er i hovedsetet; treff gjerne motstanderen, men for all del unngå å bli truffet selv.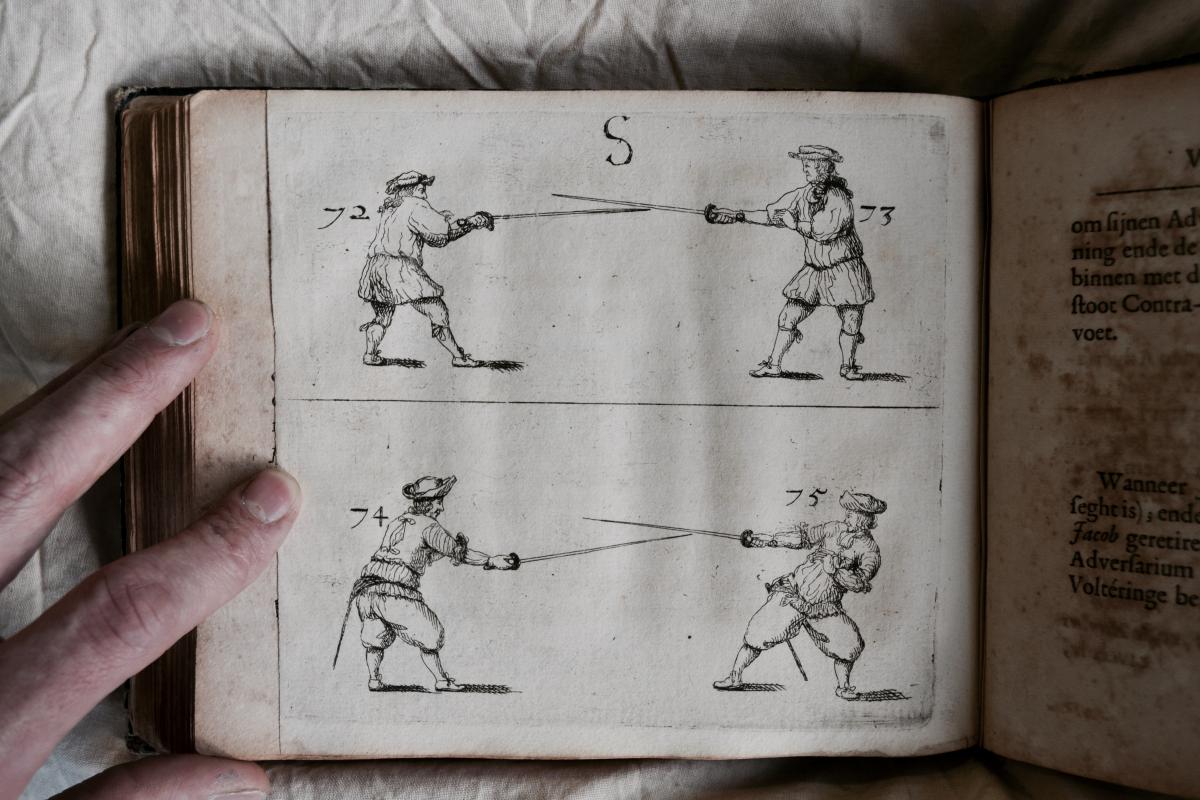 Fektekunsten som kampsport
HEMA utvøes som en kampsport på trening og i turneringer. FKFD fokuserer på å utvikle og utøve teknikkene opp mot å sparre og konkurere. Fysisk fostring er del av treningene, og en kommer godt i form av å håndtere en 1-1.5kgs jernstang i bevegelse på jevnlig basis. Våre fektere oppdager også å legge strategier og bruke psykologi. Fekting kan bli litt som livet i miniformat, og på grunn av at den involverer sverd, sinn og kropp, er en veldig sammensatt kampsport. Det er aldri for sent å begynne, og mange vil oppdage en ganske rask læringskurve.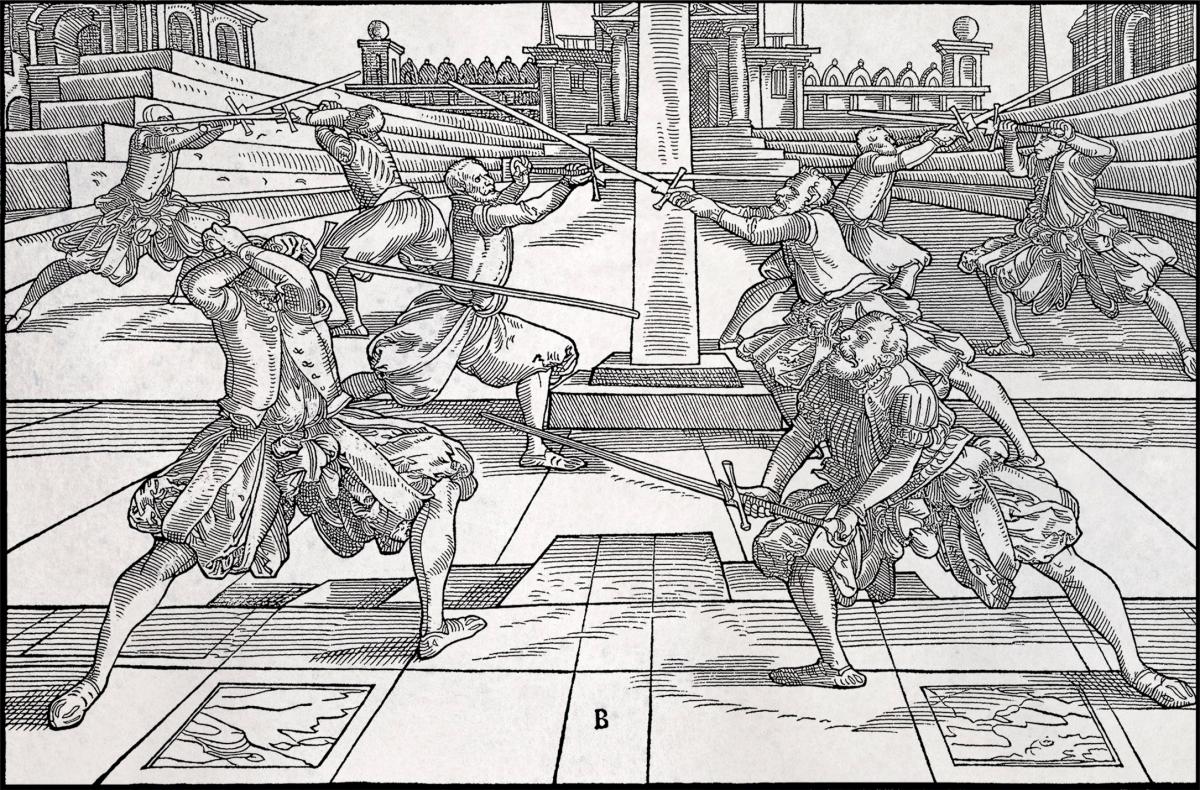 For as we are all not of a single nature, so we also cannot have a single style in combat, yet all must nonetheless arise and be derived from a single basis.

-Joachim Meyer, Kunst des Fechten (1570)
Fekting læres individuelt men også gjennom lagarbeid
Alle er forskjellige. Personlig instruksjon er en viktig del av treningene. Men FKFD er som et lag sammen og ansvarlige for å motivere alle sine utøvere til å bli bedre. Erfarne medlemmer vil etterhvert også kunne finne egne tolkninger, studere kildene selv og tre inn som hjelpeinstruktører. Vi er mer opptatt av å oppnå personlige ferdighetsmål blant fektere enn å drive med offisielle graderinger. Våre utøvere vil også derimot demonstrere sitt ferdighetsnivå gjennom konkuranser, tekniske driller og sparring.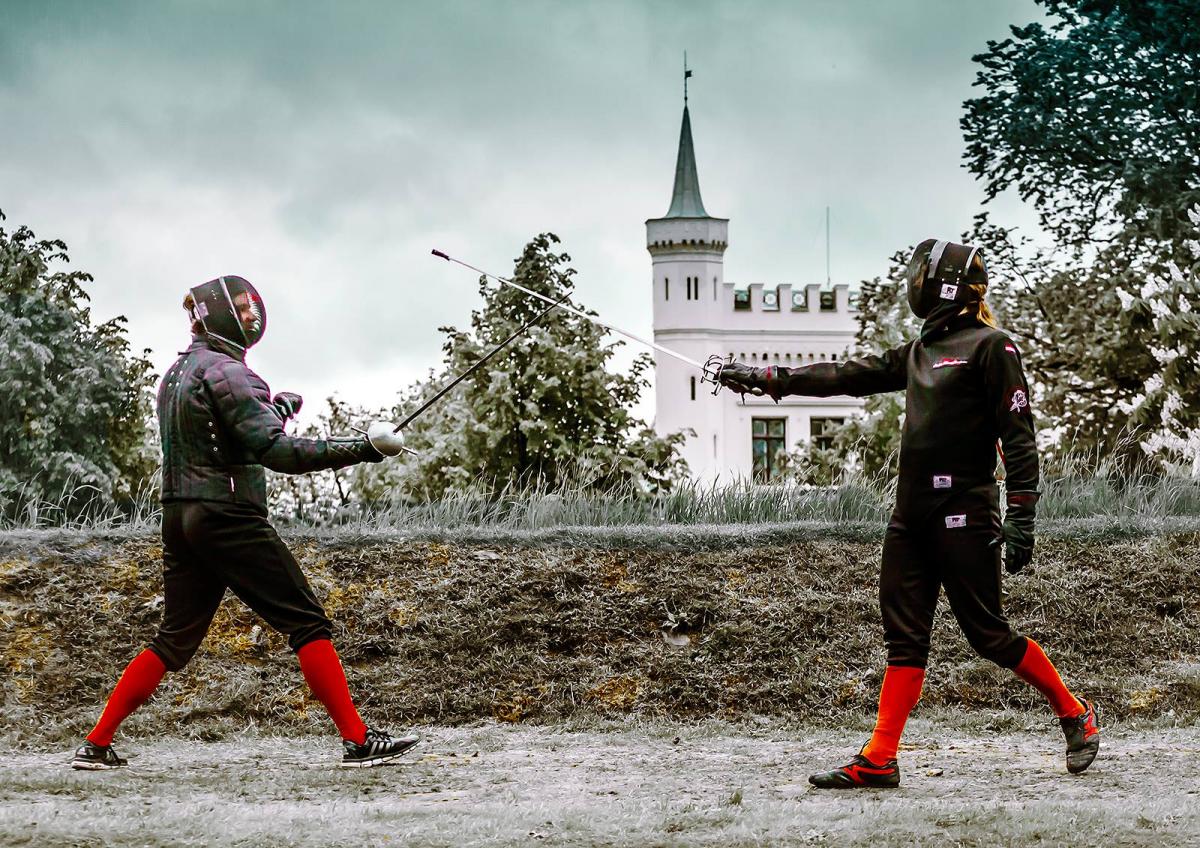 Efter 5 minutters kamp falder hykleriets falske fernis av (...) Sjælen sees aldrig bedre end gjendom det tætte nett på staaltraadmasken."

-Andre Drevon siterer i Monsieur Legouve, 'Korte regler for fegtning' (Gyldendal, 1912)
Fekting i konkuranse
Den beste måten vi har å teste oss på er mot andre, ukjente fektere og under et visst press. HEMA-konkurransemiljøet er veldig internasjonalt og har forskjellige grader av intensitet, det kan være utfordrende og hardt som ved NHFL og Swordfish, men også veldig sosialt og inkluderende. Det er viktig at det er opp til enhver om de vil gå ut å konkurere eller ikke, og at det er ikke noe vi krever av våre medlemmer. Noen foretrekker å heller trene i det stille og bygge seg opp sakte. Andre vil kanskje ut i konkuransene mer fra begynnelsen, for utfordrende og spennende er det; det gir deg et personlig mål å jobbe opp mot.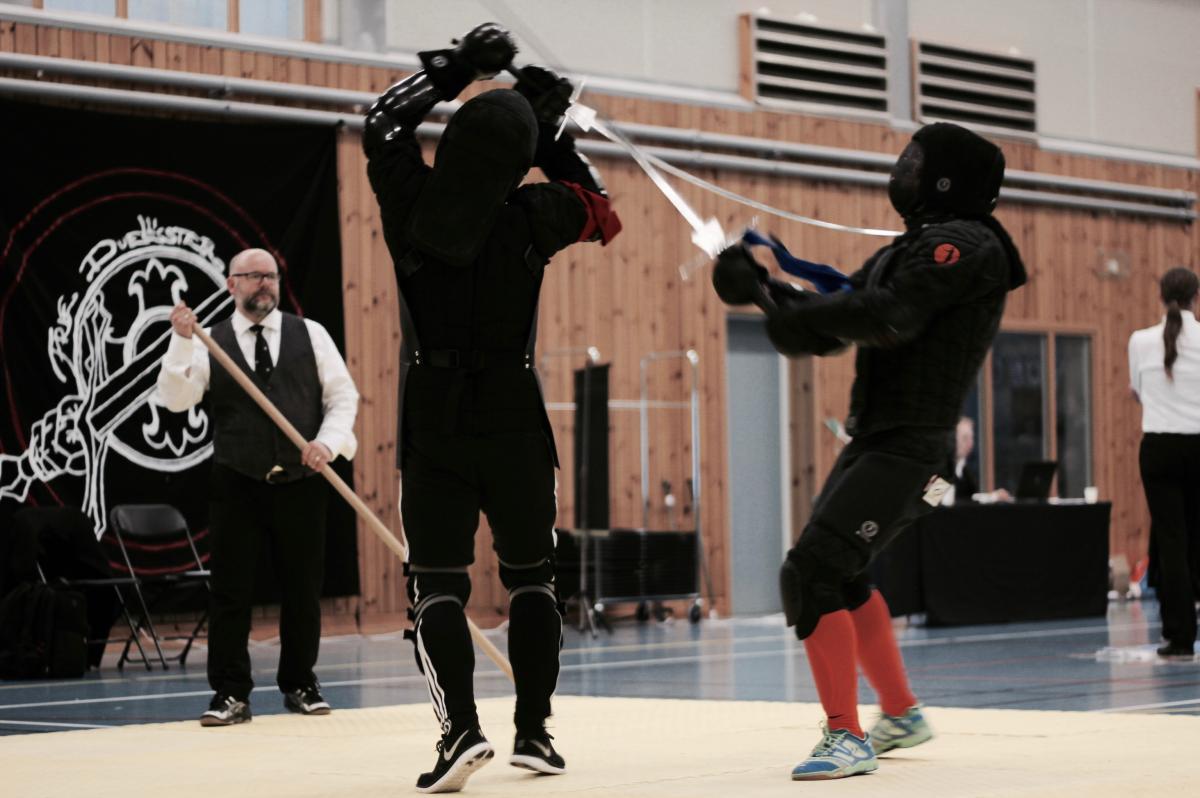 Fra Norway Open (2016)
Virker dette spennende? Kom på prøvetrening!